Charter Boat: Causeway Boats- ''Causeway Lass'' & ''Causeway Maid''
Licensed For:
up to 24 passengers
Hours:
1hr / 2hr / 3hr Trips
(Please tell the skipper that you found this information on CBUK)
Type of Fishing:
Tailor your days fishing for your group, 3 hour mackerel fishing trips
Tackle Available:
Yes - Contact Skipper
Bait Available:
Yes - Contact Skipper
Boat Specification:
we have x2 Boats 'Causeway Lass'' and 'Causeway Maid' both licensed for x12 passengers and x2 crew.
Facilities:
fitted out with latest electronic fish finders. Tea and coffee boiler. Inclusive of hire of fishing rods, tackle and bait
Additional Description:
I invite you to enjoy a days sea fishing onboard our charter boats 'Causeway Lass' and 'Causeway Maid' from Portrush Harbour.

Our aim is to give you a safe, enjoyable fishing experience in Northern Ireland; regardless of age, experience or abilities.

You can book my boat with confidence for your friends, club or your company day out and be assured of a quality, clean, fully licensed and insured boat with the best of facilities such as on deck toilet compartment, wheelchair access door, stainless steel safety rails, heated wheelhouse and seating for all 12 passengers.

Your crew will work hard to get you out to good fishing marks regardless of distance and to assure you of a day out with a difference.

'Causeway Boats' is the largest Sea Angling business in Ireland! Remember if you can book another boat cheaper there's probably a reason for it, don't get a shock on the day!

We operate the 'CausewayBoats' from Portrush on the North Antrim coast. Portrush has been the 1st choice destination for sea anglers for generations. Fishing out of Portrush offers some of the best opportunities for good catches of fish.

we look forward to welcoming you onboard-
Causeway Boats CREW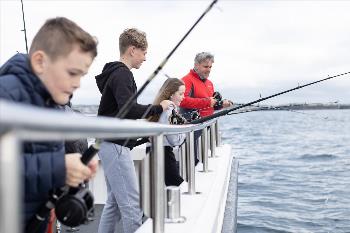 About the Skipper:
24+ years experience in charter boat angling on the north coast of Ireland.

we have 3 full time skippers who will ensure you have a good and safe days sea angling.
This Charter has been listed as Wheelchair Accessible. Contact the Skipper for full details.
This Charter has been listed as Suitable for Diving Trips. Contact the Skipper for full details.
Latest Catches
12 lb Ling (Common) by drews ling

10 lb 6 oz Ling (Common) by ray lafferty

12 lb 9 oz Cod by uel

18 lb Bull Huss by strong fight donegal huss
18 lb 2 oz Spurdog by Unknown

4 lb 2 oz Cod by string of coddies!

18 lb 5 oz Ling (Common) by Unknown