Charter Boat: Ebony May
Licensed For:
up to 12 passengers
Hours:
2hr / 3hr / 4hr / 5hr / 6hr / 7hr / 8hr / 9hr / 10hr / 11hr / 12hr / Multiple Days Trips
(Please tell the skipper that you found this information on CBUK)
Type of Fishing:
Mixed fishing. Trips can be arranged to specialise for Tope - (June-July.) Bass - (June-November.) (Skate, bream, dabs, pollock, smoothhound) Mixed bottom fish throughout the year.
Tackle Available:
Yes - Contact Skipper
Bait Available:
Yes - Contact Skipper
Boat Specification:
Cougar 8 metre catamaran (4 metre beam)
Facilities:
Toilet facilities. Tea and coffee.
Additional Description:
Happy hooker skippered by Alan Jones has now been taken over by Stuart Denman. The new boat name is Ebony May.

The Ebony May charter boat is a catamaran, purpose built and designed with the anglers comfort, space and safety in mind. The vessel has a side entrance door to allow easy access to the deck. The Ebony May has a modern electronics package, and is powered by 2x 250 HP engines, giving it a cruising speed of 16-20 knots. The vessel is fitted with 2 live bait tanks, to hold both mackerel and sand eels. The vessel is RYA coded to carry 12 anglers, plus 2 crew.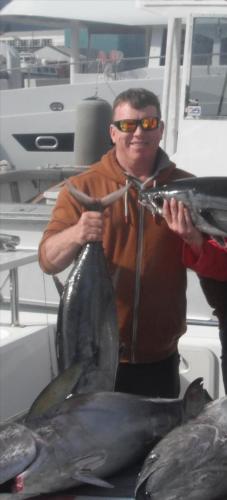 About the Skipper:
I have fished these waters for the past 30 years. I have been a charter skipper for the past 15 years. I am a serious fisherman myself, and pride myself on never having a blank trip. I specialise in bass during the season fishing, mainly with live baits. I also specialise in tope fishing (June/July). Last season having caught tope up to 45 pound. Mixed days of drift fishing, and bottom fishing can be provided. Bottom species that are targeted are skate, bream, pollock, codling, dabs and plaice. On the Ebony May, we cater for all ages, and both novice and serious anglers alike. Our aim is to provide you with an exciting and pleasurable angling experience, with plenty of fish!
This Charter has been listed as Wheelchair Accessible. Contact the Skipper for full details.
Latest Catches
3 lb Ballan Wrasse by Martin

6 lb Bass by Unknown

7 lb Bass by Unknown
7 lb Bass by Unknown

6 lb Bass by Mike

7 lb Bass by Rob

6 lb Bass by Unknown
8 lb Bass by Marcus

6 lb Bass by Unknown

6 lb Bass by Unknown

5 lb Bass by Unknown
Last Minute
Reviews
Summary:





John Kinsey (26/05/2016)

Went out with Stuart on Ebony May, had great day on the Tope. First drop, caught a 31lb, then next had 3 more, up to 35lb. Great to have a skipper of Stu's experience. Great bloke, nothing too much trouble, tea & coffee all day!

James Ashton (16/10/2015)

First time out on the happy hooker. We were after Bass but the Bass were not playing or the mackys, the skipper try'ed his best moving from mark to mark. We ended up on the hook and had gurnard and some mackys. In all had great day even if the fishing was hard. Look forward to seeing you next year.

Joel Leese (06/08/2015)

went for the second time with Alan and he didn't let us down once again! Thanks again Alan! (Joel, Karl and Cameron... The sick one ) ;)

John McAllister (06/08/2015)

Had the great pleasure of another great day out bass fishing aboard the Happy Hooker out of Saundersfoot harbour. By rights I should have wrote my first review last year when I first got hooked on the bass fishing off Saundersfoot. Alan the skipper is a great coach and gets obvious pleasure in passing on his knowledge and experience to both novices and more experienced anglers alike. If I could I would go fishing with him every week. I have fished with him about half a dozen times now, always caught, always learnt and always had a good laugh.

Balint Varro (13/07/2014)

Very good experience. Really enjod the time. Very experienced guide and very good costumer service.

Skippers Reponse: Thanks Bal hope to see you again soon