Charter Boat: Gloria B11
Licensed For:
up to 11 passengers
Hours:
3hr / 4hr / 5hr / 6hr / 7hr / 8hr / 12hr / Multiple Days Trips
Contact:
Terry Bolingbroke
(Please tell the skipper that you found this information on CBUK)
Type of Fishing:
all types
Tackle Available:
Yes - Contact Skipper
Bait Available:
Yes - Contact Skipper
Boat Specification:
Gloria B is a new fast 38 foot Procharter purpose built charter boat fully equipped with modern electronics, she has a large cockpit for anglers comfort plenty of space easily to accomodate up to 10 anglers comfortably unlike the catamarens which are very limited to space on deck for anglers cause cramp conditions so if you want comfortable fishing Gloria B 2 has everything your looking for in a boat giving you a great experience with on deck toilet and powered by a Caterpiller 375hp diesel for speeds up to twenty knots
Facilities:
kitchen, toilet, inside sitting area, fish finders and modern electronics with plenty of space on deck to cater for up to 11 anglers comfortably unlike the cramped backside of a catamaren where anglers are to ontop of each other mono boats are the way forward for space and comfort fishing
Additional Description:
We ground fish for Tope Bass Skate Hounds Mackerel in the summer and Cod Whiting etc in the winter. We sail from Brightlingsea Essex loading from a floating jetty for easy access just step on board no tides to worry about. We can arrange bait and provide rods and reels free of charge. We have two boats and can cater for up to twenty anglers



Individuals welcome min of four, only £55 a head for adults and £30 for under 14's inclusive of rods and dead bait.
Weather and numbers depending
Phone or email for details/booking
facebook page gloriab2charters or terry bolingbroke

And starting from March we are doing walk on trips 5 persons upwards £250 with frozen bait, rods included with tea and coffee on tap and hot snacks contact Terry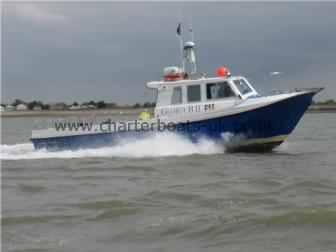 About the Skipper:
I have been chartering on and off for many years and crew member and helmsman on the Clacton-on-sea RNLI Lifeboat for over twenty years. Please email me or phone for any booking requirements, or even if you just want to know the latest catch reports. I'm here to make your day the most enjoyable I can, and will try my hardest to find the best fishing marks to give you the best possible chance of catching.
Tight Lines
Terry


This Charter has been listed as Wheelchair Accessible. Contact the Skipper for full details.
This Charter has been listed as Suitable for Diving Trips. Contact the Skipper for full details.
Latest Catches
14 lb Thornback Ray by Unknown

7 lb 5 oz Smooth-hound (Common) by Unknown

14 lb Thornback Ray by Unknown

10 lb 4 oz Bass by polish trip
11 lb Bass by Dean, aboard gloria b2

8 lb 2 oz Bass by Unknown

6 lb 5 oz Cod by mr balding
8 lb Cod by police match

10 lb 8 oz Cod by Paul Perryman

8 lb 7 oz Cod by Ray Mitchel fishing on Gloria B

11 lb 2 oz Thornback Ray by Kevin fishing from the Gloria B
Last Minute
Availability
AUGUST - 2020

| Su | Mo | Tu | We | Th | Fr | Sa |
| --- | --- | --- | --- | --- | --- | --- |
| 26 | 27 | 28 | 29 | 30 | 31 | 1 |
| 2 | 3 | 4 | 5 | 6 | 7 | 8 |
| 9 | 10 | 11 | 12 | 13 | 14 | 15 |
| 16 | 17 | 18 | 19 | 20 | 21 | 22 |
| 23 | 24 | 25 | 26 | 27 | 28 | 29 |
| 30 | 31 | 1 | 2 | 3 | 4 | 5 |
Color for Fully Booked

Fully Booked

Color for Partially Booked

Partially Booked

Color for Available

Available

Color for Unspecified

Unspecified
N.B. Not all Skippers keep this diary up-to-date. Always check with skippers before making any plans.
Reviews
Summary:





Rich Eames (04/06/2017)

Another superb day out on Gloria bII. Terry is an excellent skipper and always provides an excellent experience. Defo the only boat I would book again. Terry put us straight on the fish and we had plenty on our lines even the Gurnards were showing there ugly faces!!!! Give the skipper a crack he won't disappoint

Andy Bryant (20/03/2016)

Great day! Terry and Lee were excellent. On hand for advice when you needed them but were laid back and happy for the lads to crack on.It was tough fishing but Terry got us onto the fish and everyone came home with their supper plus extras in the end. Definitely be booking again.

Simon Whitehead (01/03/2014)

Excellent days fishing had by all . Terry and Dean were very helpful and professional ,put us on the codling/skate straight away. Plenty caught and some returned . Would recommend and will be going back again! 5*****

tony harrington (20/03/2011)

Myself and 7 other chartered Gloria B11, we had a great time, the skipper ( terry ) put us on the fish straight away, between us we had about 24 codling to 5lb, all keepers, we also had about 15-20 big whiting,we found terry and his son dean very friendly and helpful , we would very much recondmend the gloria B11,in fact we have already made another booking, Once again thanks Terry and Dean for a great day out, we are looking forward to the next trip.

Paul Rowlen (07/11/2010)

What a great days fishing we had I ended up walking away with a bag of cod and whiting having put several back along with the usual doggies, having tried other skippers I find Terry to be the most laid back but at the same time ultra proffesional, the bait from Brian Deans was as good and fresh as ever which was proven in the boats catch. All of this leads to a a great day so much so that my son had his fishing birthday party on the boat.All I have to do now is work out when I can get out again.