Charter Boat: Grey Viking
Licensed For:
up to 10 passengers
Hours:
4hr / 8hr / 9hr / 10hr / 12hr / Multiple Days Trips
(Please tell the skipper that you found this information on CBUK)
Type of Fishing:
Wreck Fishing for Cod, Pollack, Ling, Bass and Conger - Offshore Turbot Trips - Reef Fishing for Plaice, Bream, Skate etc
Boat Specification:
Fast 440hp Aquastar 38ft Pro Fisherman - 15 knots cruising 23 knots top speed
Facilities:
Covered seating, toilet, water boiler for unlimited tea and coffee, insulated fish boxes, C.H.I.R.P and conventional fish finders, 4 x GPS chart plotters, seabed mapping software, broadband radar, AIS transponder, 3 x VHF DSC radios, full safety equipment, first aid, fully insured
Additional Description:
Grey Viking is one of the busiest charter boats in Brighton with a reputation for putting our anglers on the fish. Specialising in wreck fishing for Cod, Pollack, Ling and Conger plus offshore Turbot and Brill fishing. Also offering trips to the inshore reefs and grounds fishing for Bream, Plaice, Skate, Smoothhound etc. In winter we target the larger Cod when they move into their spawning grounds.

**** MY DIARY FILLS QUICKLY - HURRY FOR BEST TIDES !! CALENDAR UPDATED DAILY ****

**** FREE PARKING CLOSE TO THE BOAT !! ****

Winning Charter Boat of the Brighton Pollack Competition 2010 and 2012 sponsored by Daiwa and featured on Sky Sports TV, Talksport and Boat Fishing Monthly. Countless personal bests for our anglers including Cod to 34lb, Pollack to 19lb 8oz, Bass to 11lbs, Conger to 90lbs, Bream to 5lb 4oz and Ling to 24lb

Wreck Fishing specialists virtually all year round for Cod, Pollack, Conger, Ling and Bass, up to 40 miles out. In winter we fish for decent sized Cod within 8 miles of the marina, with winter wrecking trips on some tides too. April to June we also fish the famous Kingsmere Rocks for Black Bream as well as the wrecking trips. August and September is the peak of the offshore Turbot and Brill fishing on the mid channel banks. Spring to Autumn we also have some great Plaice fishing within 4 miles of the Marina.

In addition to full boat charter bookings I run Individuals Days most Mondays, Wednesdays and Fridays and try to offer some weekend dates for Individuals too., with beginners and experienced anglers all welcome. I also run "Premium Days" for experienced anglers only who don't mind paying a bit more to have less people on the boat on the best tides too. Please check my calendar for availability, which is updated daily.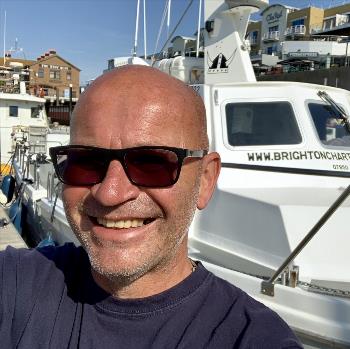 About the Skipper:
Hi, I'm Ray, a qualified RYA Yachtmaster Offshore with an MCA Commercial Endorsement, First Aid and Sea Survival Certificates. I'm therefore licenced to skipper commercial vessels up to 200 gross tonnes within 150 miles of any safe haven.

I've been fishing for over 40 years now and I work VERY hard to put you on the fish and always go the extra mile to find a good catch or a personal best for my anglers. I get a real buzz from the job and enthusiastically communicate with and help beginners and experienced anglers alike to improve their skills and catches. It probably explains why Grey Viking is one of the busiest charter boats in Brighton Marina!
This Charter has been listed as Wheelchair Accessible. Contact the Skipper for full details.
Latest Catches
10 lb 8 oz Bass by Jim Richardson

7 lb Bass by John Saunders

17 lb 8 oz Pollock by Tim Crosskey

24 lb Blonde Ray by Mark Banger
28 lb 8 oz Blonde Ray by Mark Hillier

3 lb 10 oz Black Sea Bream by Juned Jable

28 lb Cod by Matthew Strowger

4 lb 4 oz Bass by Brian Green
12 lb 8 oz Cod by Brian Green

9 lb 4 oz Cod by Robin Howard

14 lb 4 oz Cod by Ray Burn

13 lb 12 oz Cod by Jimmy Laban
Last Minute
Availability
APRIL - 2021

| Su | Mo | Tu | We | Th | Fr | Sa |
| --- | --- | --- | --- | --- | --- | --- |
| 28 | 29 | 30 | 31 | 1 | 2 | 3 |
| 4 | 5 | 6 | 7 | 8 | 9 | 10 |
| 11 | 12 | 13 | 14 | 15 | 16 | 17 |
| 18 | 19 | 20 | 21 | 22 | 23 | 24 |
| 25 | 26 | 27 | 28 | 29 | 30 | 1 |
Color for Fully Booked

Fully Booked

Color for Partially Booked

Partially Booked

Color for Available

Available

Color for Unspecified

Unspecified
N.B. Not all Skippers keep this diary up-to-date. Always check with skippers before making any plans.
Reviews
Summary:





Mark Hillier (03/04/2017)

Monday was a fantastic day on the Plaice, great crowd of lads on board boating over 70 Plaice guided by Ray the skipper who ive fished with on numerous occasions without ever having a disappointing trip, whether its Plaice,Bream,Turbot,Cod or Pollock Ray always puts you on the fish, he works very hard to find the fish with his vast knowledge of areas and tides,Ray is without doubt my personal favourite skipper, i always look forward to fishing with Ray on the fantastic Grey Viking knowing im going to have a great day with one of the very best Skippers

Dean Murphy-Brown (24/06/2015)

Fantastic day out with Ray as usual! Been out on the Viking a few times now and always have a ball, last trip was no different with over 200 cod boated, many released to chase a rubber worm another day. Highly recommended

Skippers Reponse: What a day Dean! Well over 200 cod caught and load put back which is lovely to see. Always a pleasure to have you aboard mate!

Chris Mitchell (15/04/2015)

Ray had a cunning non conventional plan and we stuck with it. Result 55 cod, 15 pollack, 1 gurnard, 8 very happy anglers.

Skippers Reponse: Cheers Chris, thats two great trips for you recently, always a pleasure to have you aboard mate!

ian burns (23/09/2013)

Great boat and great skipper. Ray certainly knows his stuff. my young lad and myself have done quite a few trips with ray this year. And weve had so many new species and pb's including 20lb ling, young conner had 5 turbot on 1 trip! species this year. plaice. black bream. conger.ling.cod.pollock.bull huss. red gurnard.tub gurnard.strap conger thats just some. you want a good day with a great skipper give him a go. top bloke.

Skippers Reponse: Hi Ian, It's been an absolute pleasure fishing with you and Conner this year and seeing you with some memorable catches !! You're both top blokes and anglers !!

chris marley (02/03/2013)

great skipper put us on the fish had my pb pollock.Very helpfull, knowledge of ground is amazing ,cant wait till next trip thanks ray.

Skippers Reponse: Hi Chris, well done on the personal best and thanks for the kind words!