Charter Boat: Ocean explorer
Licensed For:
up to 12 passengers
Hours:
4hr / 8hr / 9hr / 10hr / 11hr / 12hr Trips
(Please tell the skipper that you found this information on CBUK)
Type of Fishing:
Wreck and Reef
Tackle Available:
Yes - Contact Skipper
Bait Available:
Yes - Contact Skipper
Boat Specification:
procharter p4 (wide ) 12m in length and with an empressive beam of 4.36 m Ocean explorer has been tested having been sailed from Kirkwall ( Shetland islands ) with ease also it has a seating area for everyone on board in the cabin no more getting wet through .
Facilities:
toilet ,hot drinks and enough room in the heated cabin in case the weather gets inclement .
Additional Description:
Ocean explorer
is the forth in a series of charter boats to be owned and run by Lee the previous boats being the
,Esk star,Maggie May,wandering star and ocean explorer. The pro charter p4 (wide) is 40ft (12) meters length and has a massive beam of 4.36 m The boat is located at Hartlepool marina. The ocean explorer is equipped with all modern electronics and safety equipment required for COP 4. All fishing equipment, rods, reels and tackle also has room for 12 inside the heated cabin with a table to have a snack on .
NOW TAKING BOOKINGS FOR 3-4 HOUR EVENING TRIPS.
These trips are for those who do not, or cannot get out for the full day sessions. Good to get out and relax at the end of a working day. The evening trips are ideal for those who are new to the sport, and even better for those who want to take younger members of the family out to get them interested in this outdoor activity, (beats any computer game!). Lotus of Mackerel about, get yourself out for some macky bashing. Ring for details and prices.we also carry out crew Transfere's , standby work and safety boat duties .
Note about booking parties.
In the past some people have booked for a party of 12, and only eight or less have turned up. To that end, if a party has been booked on board and some do not show and not enough notice has been given to fill the vacancy ,the party will still pay the original party size price.

If your after a trip out at short notice, it's better to phone or text me instead of sending an e-mail. I can then get back to you faster.

If you have booked a trip out, ring the day before to confirm numbers and to get an updated weather report.

Can also be found at www.facebook.com/WanderingStarcharters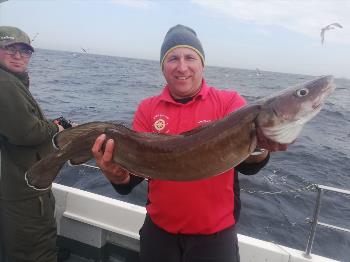 About the Skipper:
Lee has been working on charter boats for 15 years and counting, his love for sea fishing started at an early age when he was out on boats with his dad John (The Mentor) Hutchinson.
" As a skipper who also still loves to fish, i strive to get on, and keep on the fish. I have built up a base of good local knowledge over the years, happy to give advice and help on all fishing matters."


We are now taking bookings for 2020 places book early to avoid disappointment

Rod Hire available ,......also end terminal tackle is available for sale on the boat for those who don`t have any ........ please ask the skipper for more details
We can now supply frozen bait to save you shopping around we can get unwashed squid,blueys,crab cart and mackerel
This Charter has been listed as Wheelchair Accessible. Contact the Skipper for full details.
This Charter has been listed as Suitable for Diving Trips. Contact the Skipper for full details.
Latest Catches
1 lb Ballan Wrasse by Unknown

11 lb Ling (Common) by Unknown

11 lb Ling (Common) by Unknown
11 lb Ling (Common) by Unknown

13 lb Ling (Common) by Unknown

10 lb Ling (Common) by Unknown
17 lb Ling (Common) by Unknown

17 lb Ling (Common) by Unknown

13 lb Ling (Common) by Unknown
Last Minute
Availability
AUGUST - 2020

| Su | Mo | Tu | We | Th | Fr | Sa |
| --- | --- | --- | --- | --- | --- | --- |
| 26 | 27 | 28 | 29 | 30 | 31 | 1 |
| 2 | 3 | 4 | 5 | 6 | 7 | 8 |
| 9 | 10 | 11 | 12 | 13 | 14 | 15 |
| 16 | 17 | 18 | 19 | 20 | 21 | 22 |
| 23 | 24 | 25 | 26 | 27 | 28 | 29 |
| 30 | 31 | 1 | 2 | 3 | 4 | 5 |
Color for Fully Booked

Fully Booked

Color for Partially Booked

Partially Booked

Color for Available

Available

Color for Unspecified

Unspecified
N.B. Not all Skippers keep this diary up-to-date. Always check with skippers before making any plans.
Reviews
Summary:





mark roberts (29/09/2017)

Spot on comment from John and really cant add any more, but to say if any body is nervous about getting in contact or how to learn what its all about, then go no further than lee.

Jon Barber (29/09/2017)

What a great day out on Ocean Explorer. Lee's sole aim was to make sure we caught, and boy did we catch!seriously we all had at least 20+ codling, and I had as many whiting! Lee was great with me as a novice and helped no end, this was my first time proper boat fishing and I will Defoe be up for more! Lee's local knowledge, and contacts, made the day a real pleasure and he was always trying to get us on the fish. The others in the group were a real blast and we all had great fun. Cannot recommend this guy and his boat highly enough. Only issue I had was obviously catching the largest cod Lee went to help landing it and " accidently" knocked it off!i had a fab day and thoroughly enjoyed my self, thanks to Lee and the group I was with! Fish and chip supper tonight!

Skippers Reponse: Cheers Jon was a pleasure to have u aboard

Wojciech Gasior (09/07/2017)

Polecam .Mila obsluga ,pomocna.Zadnych problemow z rezerwacja.Wystarczajaco duzo miejsca dla 12 osob.Bardzo dobra znajomosc wod (bardzo dobre polowy).Toaleta i miejsce do siedzenia w kabinie .Excellent service. Thank you

Skippers Reponse: No problem was a good day hope to see u again aboard the ocean explorer

Wojciech Gasior (09/07/2017)

Polecam .Mila obsluga ,pomocna.Zadnych problemow z rezerwacja.Wystarczajaco duzo miejsca dla 12 osob.Bardzo dobra znajomosc wod (bardzo dobre polowy).Toaleta i miejsce do siedzenia w kabinie .Excellent service. Thank you

Christopher Pearson (03/07/2017)

first time aboard this boat on monday 3rd july what a fantastic boat and skipper , everybody caught fish nothing fantastically big but everybody enjoyed the crack really made my day . will definitely be using this boat and skipper every time I fish from hartlepool as long as their are spaces

Skippers Reponse: Thanks Christopher it was a pleasure having you aboard