Charter Boat: Osprey
Licensed For:
up to 10 passengers
Hours:
2hr / 3hr / 4hr / 5hr / 8hr / 9hr / 10hr / 11hr / 12hr / 24hr / Multiple Days Trips
(Please tell the skipper that you found this information on CBUK)
Type of Fishing:
Uptiding - Species fishing beginners welcome/Wrecks/Lundy Trips/corporate days
Tackle Available:
Yes - Contact Skipper
Bait Available:
Yes - Contact Skipper
Boat Specification:
Blyth 10m
Facilities:
Easy access Door/Tea/coffee - Gas hob/oven - On deck flushing toilet
Additional Description:
Blyth 10m powered by twin 200hp diesel in-boards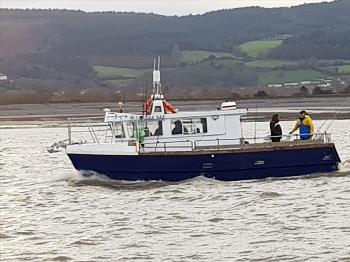 About the Skipper:
Steve has been chartering for over 30 years
This Charter has been listed as Wheelchair Accessible. Contact the Skipper for full details.
Latest Catches
21 lb 8 oz Tope by James Thomas

34 lb 4 oz Tope by James Thomas

1 lb 13 oz Allis Shad by Chris Ware

9 lb 5 oz Cod by Jimbob
13 lb 1 oz Cod by Steve Bachelor

19 lb 4 oz Cod by Chub

8 lb Cod by Unknown

6 lb Cod by Unknown
6 Kg Small-Eyed Ray by Ian

10 lb 2 oz Bull Huss by John Adams

9 lb 4 oz Bass by Nick Lane

22 lb 10 oz Smooth-hound (Common) by Jim
Last Minute
Availability
NOVEMBER - 2020

| Su | Mo | Tu | We | Th | Fr | Sa |
| --- | --- | --- | --- | --- | --- | --- |
| 1 | 2 | 3 | 4 | 5 | 6 | 7 |
| 8 | 9 | 10 | 11 | 12 | 13 | 14 |
| 15 | 16 | 17 | 18 | 19 | 20 | 21 |
| 22 | 23 | 24 | 25 | 26 | 27 | 28 |
| 29 | 30 | 1 | 2 | 3 | 4 | 5 |
Color for Fully Booked

Fully Booked

Color for Partially Booked

Partially Booked

Color for Available

Available

Color for Unspecified

Unspecified
N.B. Not all Skippers keep this diary up-to-date. Always check with skippers before making any plans.
Reviews
Summary:





nick smith (28/05/2018)

May Bank holiday see's the Arthur Talbot Memorial smoothound compition take place, and what a fab comp it was this year. With banter from the moment people met on the harbourside until I left to go home, and no doubt continuing with those left at the pub.
In total 131 hounds were landed between the 17 angler's that fished, Osprey winning best boat with a total of 80 hounds landed, with 51 landed aboard Teddie Boy.
Michael Webber Griffiths was not to be out done though and succeeded in putting one of Teddie Boy's angler's onto the biggest fish of the day, with a hound of 14lb 3oz which allowed Dave to take the coverted biggest hound trophy.
The ole seadog Steve Webber dispite finding the number's just couldn't find any bigger fish, though he was hampered by having Chris (who is now looking for anyone with knot tying abilities to give him a few lessons) and Phil who insisted on dropping fish amongst his crew.
Steve did manage to find the number's though and put Malcolm into the hot spot with a total of 15 hounds, allowing him to lift the trophy for most hounds caught, narrowly beating Matt's tally of 14, also aboard Osprey. As you could imagine with both angler's either side of me the banter was getting fairly lively as the comp drew to a close.
Dispite being a smoothound comp and with the majority of angler's using hardback crab only, there were still other species caught which included the rare bristol channel dogfish, conger, some nice huss and thornback rays
As always another fantastic day, good people, good weather and plenty of fish.

nick smith (26/11/2017)

As a regular angler aboard both these boats I can highly recommend them, both skipper's are very helpful and friendly, keep the kettle on, and most importantly like to keep you on the fish. Young Mikey is not only a very good angler but with the support and knowledge of his dad is well on his way to becoming one of the best skipper's in the channel. If you are looking for cod, rays, hounds or just want to fish the middle bristol channel area then I highly recommend giving Steve and Mike a call.