Charter Boat: Our Joe - L
Licensed For:
up to 10 passengers
Hours:
6hr / 8hr / 9hr / 10hr / 11hr / 12hr / 24hr / Multiple Days Trips
(Please tell the skipper that you found this information on CBUK)
Type of Fishing:
FISHING HOLIDAYS "THE ANGLING BREAK SPECIALISTS" - Wreck Fishing from inshore to Mid Channel - Skerries Bank - Reefs - Local inshore angling - Sharks - Fishing at anchor or drifting.
Tackle Available:
Yes - Contact Skipper
Bait Available:
Yes - Contact Skipper
Boat Specification:
OUR JOE - L is a purpose built Offshore 105. Running a turbo charged, powerful John Deere engine. A comfy vessel with a sprint speed of 20 Knots - Top of the Range Nav and Safety Equipment.
Facilities:
Tea & Coffee - Deck entrance to Toilet - Seating inside and out with room for all to stay dry - Up to date fishing tackle and rods available for free: Shimano, Penn, SideWinder Etc
Additional Description:
The only charter boat operator to own the boat and the B&B (Parkholm Hotel). We have the unique opportunity to offer a personal fishing holiday package saving you time and money to get fishing.

2022 Fishing Holiday Package
Fishing on the boat Monday - Friday inclusive
Breakfast and Lunch included
6 night's B&B Sunday - Saturday
Staying five minutes from Paignton harbour
All your fishing requirements taken care of including freezer facilities, tackle transport, Bait*, Tackle can be provided, plenty of Tea and Coffee and more. . .
£595 per person
"A Family dedicated to ensuring you experience a memorable Fishing Holiday"
contact us to enquire about your next fishing holiday.

* FISHING TRIPS *
Fishing out of South Devon year round, The English Channel offers some of the best fishing in the country and can boast many Angling World Records (some caught aboard OUR JOE - L over the years!)
We regular head out to fish wrecks mid channel and beyond, working hard and putting the miles in to catch a healthy days fishing for all to enjoy.
Trips vary from 6 hour inshore reef or the famous Skerries Bank Fishing Trips to 18hour specials to the less fished grounds of the English Channel.
For Individual Trips and Charters please check out the calendar and/or give Shaun a call on 07876623054.

If you would like to receive text updates for short notice fishing trips please get in touch.

*Bait can be organised and supplied at cost of suppler.

CONTACT DETAILS
For Fishing Trips and Charters
Our Joe -L , Skipper
SHAUN PEDLEY
shaun@ourjoe-l.co.uk
07876623054

For Fishing Holidays and Parkholm Hotel
SANDRA PEDLEY
sandra@ourjoe-l.co.uk
01803 551504

Even if you are not fishing and fancy a few nights away in our hotel in the heart of Paignton, Torbay. All enquiries welcomed, Should you require any further information please do not hesitate to contact. For up to date availability call us on 01803 551504 we'd love to hear from you.

Post codes for your SAT NAV
Paignton Harbour - TQ4 6DT - Pick up at Departure Point B
Brixham Harbour - TQ5 8AJ - Pick up at the Main Pontoon
Torquay Harbour - TQ1 2BG - Pick up at Beacon Quay Pontoon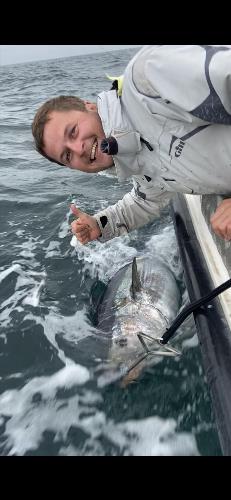 About the Skipper:
Skipper, Shaun Pedley - The Pedley family have been charter fishing out of Paignton for over 30 years. With a wealth of local knowledge of South Devon's beautiful coast and across the English Channel.
Being a keen angler himself Shaun is willing to share any fishing tips and offers free advise. With previous Fishing and Commercial Skipper Experience and the highest level of Qualifications available, Shaun is keen to get you on the marks that his father has carefully passed down to him and is now pushing the boundaries of where Simon fished in the past in an attempt to improve the catch rate even higher for OUR JOE-L and keep our valuable reputation going.

Personal Qualifications and achievements
First Skippers licence accomplished on leaving school at 16 and worked up to a current Merchant Seafarers MCA Certificate of Competency. (MCA CoC, Master <200gt)
MCA Radio Certificate of Competency, GMDSS GOC (Highest standard available)
MCA ENG1 Medical (Valid for 2 years, Maximum Available)
Full STCW Training in Fire Prevention and Fire Fighting with certificate of latest update, Personal Survival Techniques with certificate of latest updates, Elementary First Aid, Personal Safety and Social Responsibilities, Human Element Leadership and Management (HELM) at Operations Level and Approved Engineering Course.

BOSIET (Basic Offshore Safety Induction and Emergency Training)

RYA Certificate of Competency, YachtMaster Offshore. Commercial Endorsement for Power Driven Craft up to 24m in length.
RYA/MCA YachtMaster Offshore & Ocean Shorebased Course.
RYA courses include - Powerboat Level2 for Coastal Waters, both Plaining and Displacement craft, VHF Short Range Certificate, First Aid, Small Craft Basic Sea Survival Course.

PBA Membership Holder
Shaun also holds the World Record for 'The youngest person to ever row across the Atlantic Ocean Twice'
Torbay's Sport Personality of the Year winner.
Torbay Sea Angling Festival TOP CHARTER BOAT SKIPPER!!!
Latest Catches
19 lb 12 oz Blonde Ray by Simon Oakland

3 lb 4 oz Turbot by Unknown

9 lb 2 oz Pollock by Kevin Turner

4 lb 9 oz Black Sea Bream by Malcom Wright

9 lb Bass by Nick
4 lb 5 oz Turbot by Matt

1 lb 2 oz Dab by Matt

23 lb Blonde Ray by Malcom Wright

6 lb 8 oz Turbot by Bob Nunn

16 lb 10 oz Cod by Vernon
6 lb 4 oz Tub Gurnard by Unknown

8 oz Pilchard by Unknown

9 lb 2 oz Cod by Brian Sloan

3 lb 10 oz Plaice by Roy Bigg

14 lb 3 oz Pollock by Pete Heart
Last Minute
Availability
AUGUST - 2022

| Su | Mo | Tu | We | Th | Fr | Sa |
| --- | --- | --- | --- | --- | --- | --- |
| 31 | 1 | 2 | 3 | 4 | 5 | 6 |
| 7 | 8 | 9 | 10 | 11 | 12 | 13 |
| 14 | 15 | 16 | 17 | 18 | 19 | 20 |
| 21 | 22 | 23 | 24 | 25 | 26 | 27 |
| 28 | 29 | 30 | 31 | 1 | 2 | 3 |
Color for Fully Booked

Fully Booked

Color for Partially Booked

Partially Booked

Color for Available

Available

Color for Unspecified

Unspecified
N.B. Not all Skippers keep this diary up-to-date. Always check with skippers before making any plans.
Reviews
Summary:





steve nickless (09/08/2020)

Shaun worked tirelessly to put us on the fish and a great day was had by all our party mid channel wrecking.
We also had a great stay at Parkholm Hotel.
Many thanks to Shaun, Sandra and Simon. Highly recommended,. Will definitely book again soon

BOB NUNN (27/05/2018)

Just returned from a weeks Fishing Holiday staying at the Parkholm Hotel and fishing on Our Joe-L.
Fantastic week with Shaun Pedley the new young skipper now involved with the family business. He certainly put us on the fish with 10 species caught over the week and many double figure fish amongst them also a bonus John Dory!
The whole experience from the fishing to the hotel was truly memorable and nothing is too much trouble for this friendly family run Business.

Thank you Shaun,Simon and Sandra and see you again next year!


simon smith (01/06/2016)

very good trips abord our joe-l

gary raines (08/06/2016)

great day out fishing caught a 13lb cod 10lb Pollack and some slightly smaller great crew on board who more than willing to help defo recommend this boat to all

Malcolm Wright (15/06/2015)

Had another great week with Simon and Sandra, had plenty of cod from 4 to 9lb off the wrecks, all good eating size fish. we had a good day on the skerries on Thursday when everyone had loads of plaice up to 2.5 lbs, nothing huge but again all a good eating size. On wednesday when there was too much wind to get offshore wh had a fun day inshore catching doggies and huss. the week was finished off in style on friday when I had an 8lb ling and a 16lb 8ox pollack & another angler had a 19lb 8oz ling. Thanks to Simon for putting us on the fish every day and to Sandra for a warm welcome at the hotel, and also thanks to your crewman John for all the tea, sorting out tangles and filleting all the fish.