Charter Boat: Predator II
Licensed For:
up to 12 passengers
Hours:
1hr / 2hr / 3hr / 4hr / 5hr / 6hr / 7hr / 8hr / 9hr / 10hr / 12hr / Multiple Days Trips
(Please tell the skipper that you found this information on CBUK)
Type of Fishing:
wreck / reef,freelining/flyfishing for pollack,uptiding(october onwards),bass plugging,sharking(july-sept)...COMMON SKATE(now targetted)
Tackle Available:
Yes - Contact Skipper
Bait Available:
Yes - Contact Skipper
Boat Specification:
purpose built angling launch 32ft long by 13ft wide (267sq ft of fishing deck),all electronics and fishfinders
Facilities:
tea and coffee available...sorry,no toilet
Additional Description:
SEA FISHING in South West Scotland
SEA FISHING from Portpatrick
COMMON SKATE FISHING at PORTPATRICK

DIVING CHARTERS from Portpatrick (see last 2 photos under main boat)
flexibility is the name of the game!...sailing at a time to suit you and returning back in line with the trip booked ....but before it gets dark.!...I am more than happy for a later departure to suit those anglers that have travelled some distance.I am more than willing to try any type of fishing you want to.I will anchor for uptiding and downtiding,drift the sunken wrecks and rough ground,go freelining for pollack in the kelp shallows and we can go sea fly-fishing and /or plugging for bass or shark fishing in the deeper water of Beauforts Dyke(restriction on numbers for that one!) in an area that stretches from mull of Galloway across to Ireland and upto Ailsa Craig. 2 day trips to stretch further afield to the Isle of Man or the Isle of Arran(tide direction dependant and plenty of notice required to arrange accomadation) are also available .
The boat is a purpose built angling vessel built in 1991(formerly "Yorkshire Lass") that operated out of Bridlington.She is fitted with all the safety equipment in line with the code of practice,
Ship Borne Electrics:
1. 3 x VHF radios
2.garmin gps
3.17" commercial standard lorenz plotter(c-map NT MAX charts feb 2013(bang upto date!!))
4.Koden CVS-128 digital (dual frequency) fishfinder
5.furuno gps
6.comar AIS system for added safety
She is twin proppellor giving greater manoeverability and at 32 ft long and 13ft wide she is a large boat.The fishing deck area measures 6.75m x 3.75m giving 25sq metres or 267 sq feet.....plenty for 12 anglers and tackle .....max speed about 11kts.
Rods,Reels(all loaded with braid!) and Tackle are available either as an all inclusive package or just rod and reel hire.end tackle is available for purchase .Its good quality tackle that is fit for purpose!
individuals,groups,all ladies,children and youths...all are welcome aboard and treated with respect.
please email or ring for pricing packages for individuals,whole boat or partial boat bookings.I will take under 10's but ask that parental/guardian cover is provided afloat.
For the beginners and " unsure" seafarers I suggest the 2 or 3 hour trips,for the more experienced the trips upto 6 hours seem to suit(in my experience).The veterans of the waves will manage the longer haul upto 14hours.
The trips upto 6 hours are all inclusive of tackle and bait,the longer trips incur tackle and rod hire charges for those without their own tackle
I also offer price packages for those that want the whole boat to themselves but don't have the full 12 anglers
The restrictions of the licencse stipulate that I can only sail in fair weather and fair light and that means that the longer trips are restricted to the summer
Less travelling and more fishing is the order of the day but I will travel further offshore if needs be.
I WILL EVEN TAKE PEOPLE FISHING ON CHRISTMAS DAY!.....if thats what you fancy
Fishing tariffs: all prices are per person
1hr- £10
2hr-£15
3hr-£20 trips from 1-6hr are all inclusive of rod,reel and tackle
4hr-£25
5hr-£30
6hr-£35
7/8hr-£40
9/10hr-£50 the trips 7-12hrs are pp (£10 per rod,reel and all end tackle for those without)
11/12hr-£60
mon-fri special(oct-march).....8hrs fishing,all tackle(if required),,£35pp(min 3 anglers(or £100) max 12 anglers or part thereof)
****PLEASE SPECIFY NUMBERS AT TIME OF AGREEING THE BOOKING SO THAT A PRICE FOR THE TRIP CAN BE CONFIRMED AND AGREED AS A MINIMUM PRICE FOR THE REQUESTED DATE******
I have had people book "the whole boat"(12) and 5 or6 turn up and those seats could have been filled by others....your days fishing is important to me and my daily wage is important to my bank manager!!!

New for 2016......clubs or work parties booking 4 full boats will get 25% off the 5th trip of same duration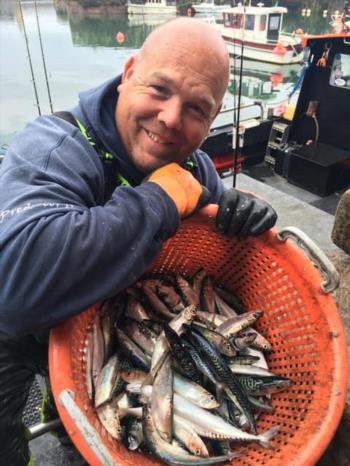 About the Skipper:
Iam returning to portpatrick after some 20 years and "Predator II" is my 5th and largest boat.
I have just retired after 22years in the Royal Navy and have been fortunate to turn my passion into my job! I love fishing,everyday if possible, using knowledge gained from earlier years fishing and then working on a charter boat(Cornubia) out of Portpatrick in Southwest Scotland.I have a wealth of knowledge on techniques that I am more than willing to share to help you get the most out of YOUR day. My level of commitment to you the customer is unsurpassed and I will not stop trying for you from trip start til day end.I will be honest with you about the state of the fishing when you enquire and offer info about the best tides and times to suit you.I will do my upmost to accomodate every requirement of yourselves.I cant guarantee the weather or fish,but I can guarantee maximum effort on my part for YOU! If you enjoy the day out,tell your friends...if you didnt,then tell me!
From me,you can expect diligence,humour,commitment and enthusiasm..."Zeal does not rest!"

This Charter has been listed as Wheelchair Accessible. Contact the Skipper for full details.
This Charter has been listed as Suitable for Diving Trips. Contact the Skipper for full details.
Latest Catches
4 lb Tub Gurnard by Unknown

24 lb Tope by Unknown

34 lb Tope by Unknown

17 lb Spurdog by skipper dom
16 lb Spurdog by gordon

84 lb Common Skate by steven

14 lb Bull Huss by gordon

18 lb Spurdog by steven
54 lb Common Skate by malcolm

14 lb Bull Huss by Unknown

3 lb 8 oz Tub Gurnard by skipper dom

12 lb Bull Huss by Unknown

5 lb Tope by vinny
Last Minute
Availability
OCTOBER - 2017

| Su | Mo | Tu | We | Th | Fr | Sa |
| --- | --- | --- | --- | --- | --- | --- |
| 1 | 2 | 3 | 4 | 5 | 6 | 7 |
| 8 | 9 | 10 | 11 | 12 | 13 | 14 |
| 15 | 16 | 17 | 18 | 19 | 20 | 21 |
| 22 | 23 | 24 | 25 | 26 | 27 | 28 |
| 29 | 30 | 31 | 1 | 2 | 3 | 4 |
Color for Fully Booked

Fully Booked

Color for Partially Booked

Partially Booked

Color for Available

Available

Color for Unspecified

Unspecified
N.B. Not all Skippers keep this diary up-to-date. Always check with skippers before making any plans.
Reviews
Summary:





tony PHILLIPS (01/08/2016)

Good luck for the season Dominic, really enjoyed my days out with you, hope your 200lb'er comes to fruition mate this year, can't wait till up there for lifeboat week. as said good luck

Skippers Reponse: many thanks for the support,look forward to seeing you

Ron Howe (30/10/2016)

Just to say a big thank you for all the hard work you have done over the past year for both clubs (Sliver lure s.a.c and Glasgow & District ) and will see you next year

Ron Howe (30/10/2016)

Just to say a big thankyou for all the hard work you have done over the past year for both clubs (Silver lure and Glasgow & District) and will see you next year all the best.

Skippers Reponse: Many thanks Ron,its been a pleasure....more of the same quality fish next year as this(hopefully!)

steven frost (17/09/2016)

The boys from GR contracts had a great days fishing out on the preditor 2 you could not have picket a better day or a better boat and a top notch skipper veary frendly and moast off all veary helpfull thanks for a good Dominic the first off many

Skippers Reponse: thanks steven,really glad you enjoyed the day

david mclean (07/09/2016)

The pirelli boys from carlisle had another great day out on PREDITOR 11 (3rd trip) . skipper dom was great and helped everyone on board throughout the day.We all caught a bag full of various fish.look forward to our next trip. tight lines DOM.

Skippers Reponse: always a pleasure,see you next year,thanks again