Charter Boat: Privateer
Licensed For:
up to 10 passengers
Hours:
5hr / 8hr / 9hr / 10hr / 12hr Trips
(Please tell the skipper that you found this information on CBUK)
Type of Fishing:
General, Tope, Species, Match, Wreck, etc.
Boat Specification:
fast Offshore 105, purpose built angling boat, powered by reliable 420hp Caterpillar engine.
Facilities:
Deck accessed electric flush toilet. Hot drinks and cooking facilities.
Additional Description:
Looking forward to 2021 'Privateer', will again be operating out of the port of Rhyl. Rhyl has a nice safe ramp down to a pontoon for ease of boat loading. Has free parking very close by, a cafe, toilets and a tackle shop onsite providing bait and all your tackle needs and best of all the angling is excellent with a wide variety of fish species and lots of fish attracting wrecks close by in Liverpool bay.

Annual maintenance will cover February and March this year and the boat will be shipshape and ready to go back in the water, as the fish arrive in numbers in, April.
. There will be opportunities for both individuals and groups/clubs and as well as General, Tope, wreck, etc, trips ..... I will be trying some, night, sole trips over the summer, light tackle Smoothound trips, fun matches and maybe some serious matches too ..... These will be advertised with plenty of notice. All relative to curreny Covid restrictions.

As I am part time and predominantly a sport angling boat ... Please Note that respectfully, .... I do NOT do, FULL CHARTERS FOR MACKEREL FISHING ..... My trips include some fishing for the numerous Mackerel that appear off this coast in the summer and I have no problem at all with people taking fish to feed themselves and their family ... but this is an angling boat not a commercial fishing boat, please take that into consideration before making a booking to avoid disappointment thank you.

I look forward to seeing you aboard and getting some good fishing. Let's hope for flat sea's and good times for the year ahead. All the best, to all for 2021.
Jon Law

IMPORTANT
I reserve the right to not put to sea and cancel the booking, if I believe the crew are either intoxicated or planning to become intoxicated. Boat angling and Alcohol are not a good mix. Also, If I believe I have been misled over the intentions to take fish on a commercial level for profit. Sadly , I have to reiterate, this is an angling vessel not a commercial fishing boat. Thank you.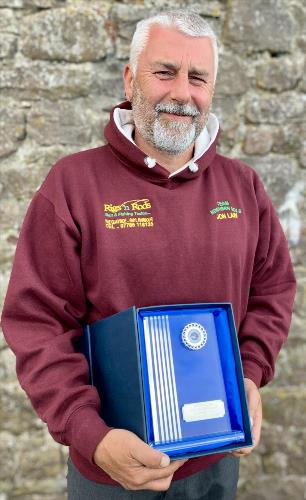 About the Skipper:
My name is Jon Law and I have been a very keen angler for over 46 years although I really started charter boat angling regularly about 35 years ago and purchased my first boat 25 years ago ..... Doesn't time fly , seems like yesterday.

I have operated my own angling boats successfully, up and down the North west coast, mainly in North Wales and have progressed to the boat I have now .. Privateer. I hold a commercially endorsed skippers licence and all up to date, sea survival, PPR and first aid certificates.

My full time job ... if you can call a 4 day a week job full time :) .. is a Safety engineer, on land. So I should describe myself as a part time charter boat skipper, at sea but as in both jobs your safety is paramount. The reason I got into chartering is to give something back to the sport that has given me so much, by providing good sport to others, in this beautiful part of the world.

I was fortunate to Boat fish in international and world competition for the country of Wales, seven times, and immensely proud to hold two team Gold medals .... rare things. Currently I still fish competitively all over the UK and I am always happy to share information that will make your angling experience more pleasurable.
Latest Catches
1 lb Tope by Unknown

1 lb Conger Eel by Unknown

1 oz Red Mullet by Unknown

1 lb Ballan Wrasse by Unknown

1 lb Tope by Unknown
1 lb Tope by Unknown

1 lb Thornback Ray by Chris Hamblin

1 lb Ballan Wrasse by Pete Minns

1 lb Bull Huss by Marc viercent
1 lb Cod by Andy

1 lb Tope by Stewart

1 lb Tope by Rhyl Tope

1 oz Dragonet by Dragonet
Last Minute
Availability
AUGUST - 2021

| Su | Mo | Tu | We | Th | Fr | Sa |
| --- | --- | --- | --- | --- | --- | --- |
| 1 | 2 | 3 | 4 | 5 | 6 | 7 |
| 8 | 9 | 10 | 11 | 12 | 13 | 14 |
| 15 | 16 | 17 | 18 | 19 | 20 | 21 |
| 22 | 23 | 24 | 25 | 26 | 27 | 28 |
| 29 | 30 | 31 | 1 | 2 | 3 | 4 |
Color for Fully Booked

Fully Booked

Color for Partially Booked

Partially Booked

Color for Available

Available

Color for Unspecified

Unspecified
N.B. Not all Skippers keep this diary up-to-date. Always check with skippers before making any plans.
Reviews
This skipper has disabled reviews.