Charter Boat: Seren y Mor
Licensed For:
up to 10 passengers
Hours:
4hr / 6hr / 8hr / 10hr / 12hr Trips
(Please tell the skipper that you found this information on CBUK)
Type of Fishing:
Fishing The Bristol Channel for a large variety of species, most fishing done at anchor over sandbanks, reefs and mixed ground, drifting for Bass
Tackle Available:
Yes - Contact Skipper
Bait Available:
Yes - Contact Skipper
Boat Specification:
Offshore 105. New Iveco 420hp engine fitted for 2012
Facilities:
Free tea, coffee and hot water
Additional Description:
Beginners and experienced anglers welcome. Individuals or parties catered for, sailing with a minimum of 4 anglers. Current holder of the Welsh Boat caught Cod record, caught by Mr. Stuart Williams at 45lb 8oz (January 1997).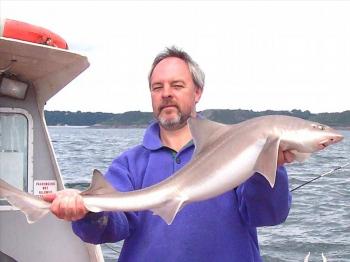 About the Skipper:
Chartered out of Swansea since 1992, over 30 years experience of boat fishing the Bristol Channel and still a very keen angler.
Latest Catches
42 lb Tope by John Mayo

47 lb 4 oz Tope by Brinley Meredith

17 lb 4 oz Smooth-hound (Common) by Keith Morgan
31 lb Tope by Dewi Coulson

32 lb Tope by Karl Howard

34 lb 12 oz Tope by Gavin Lewis
15 lb 12 oz Smooth-hound (Common) by Mark Gregory

15 lb 6 oz Smooth-hound (Common) by Gwyn Evans

14 lb 4 oz Smooth-hound (Common) by Colin Davies
Last Minute
Availability
FEBRUARY - 2018

| Su | Mo | Tu | We | Th | Fr | Sa |
| --- | --- | --- | --- | --- | --- | --- |
| 28 | 29 | 30 | 31 | 1 | 2 | 3 |
| 4 | 5 | 6 | 7 | 8 | 9 | 10 |
| 11 | 12 | 13 | 14 | 15 | 16 | 17 |
| 18 | 19 | 20 | 21 | 22 | 23 | 24 |
| 25 | 26 | 27 | 28 | 1 | 2 | 3 |
Color for Fully Booked

Fully Booked

Color for Partially Booked

Partially Booked

Color for Available

Available

Color for Unspecified

Unspecified
N.B. Not all Skippers keep this diary up-to-date. Always check with skippers before making any plans.
Reviews
Summary:





Reviews Unaccepted: 4
pete lee (17/08/2015)

Kev is a truly passionate about his fishing, Has the patience of a saint with beginners and always willing to offer a helping hand. I've been on many different boars/skippers, and would rate Kev as one of the 'Top' skippers in the industry. Big Thanks, and from now on we will ONLY book this skipper whenever we fish in South Wales.

Skippers Reponse: Thanks for your kind words Pete, look forward to seeing you again.

David Manners (25/05/2015)

Just got back from days trip. Cant fail but to recommend to both experienced angler and beginners. Have never met a couple of more helpful guys in Kevin and Ned. Please give it a go - unless it takes my place in the future that is !!! Best regards Dave Manners (or known today as Mike ???)

Skippers Reponse: Glad you and Bill enjoyed Mike, I mean Dave ( don`t know where that one came from !!). Enjoy the cruise and hope to see you both again.

roly childe (22/09/2014)

Top few days fishing with a very knowledgeable captain and crew. Where we'll looked after and taken to some top locations. More than happy to use this boat again. Thanks for a great few days fishing.

Skippers Reponse: Many thanks Roly, glad you enjoyed, the boys are more than welcome again makes my job so much easier when there's a really nice crew aboard.

kevin copeland (06/07/2014)

our club cardigan sea anglers have just had our second trip on Kevins boat both have been very much enjoyed by everyone who attended. on this occasion we had a good range of species including huss, smooth hounds, black bream,and tope I caught my first tope which weighed 22lb although small for a tope I was very glad of Kevin and Daves expert help with landing and handling a fish like that. great care was taken in handling and returning the fish the only thing I wasn't happy with was when the trip had to end.

Skippers Reponse: Glad you all enjoyed Kevin, look forward to seeing you all again

mike beard (17/11/2013)

Top skipper and mate. Very attentive and good with beginners.