Charter Boat: Size Matters
Licensed For:
up to 12 passengers
Hours:
12hr / Multiple Days Trips
(Please tell the skipper that you found this information on CBUK)
Type of Fishing:
Wreck, Reef, Banks and Channel Islands
Tackle Available:
Yes - Contact Skipper
Bait Available:
Yes - Contact Skipper
Boat Specification:
Guimond 45 sports fisherman powered by a vovlvo 615hp turbo charged diesel engine
Additional Description:
Size Matters, a familiar sight in south west waters, is available for charter from Plymouth.
This fishing vessel originates from Canada and is a regular visitor to the Channel islands and beyond.

Size Matters operates from a secure walk-on walk-off marina berth in the most accessible part of Plymouth's historic Barbican where long-stay car parking is close by.
We sail out under the towering walls of the great Citadel built in the reign of Charles 11, the backdrop for over fifty years of charter angling at its finest level.

From March to October Size Matters will operate from Plymouth.
Size Matters is one of the biggest charter boats in the country and the only one of its kind operating in UK waters.
We are very proud to be sponsored by Shimano regarded as the world best tackle manufacturer.
We cater for all levels of experience, from the beginner to the seasoned veteran.
Size Matters can hold a maximum of 12 people plus 2 crew members.
We welcome individuals, small groups, and full charters.

A full range of fishing equipment is available on Size Matters and may be used at no extra cost, though you can bring your own.
However, if equipment is lost or broken, we expect to be reimbursed the cost to replace it.
Bait is also available to purchase.

Upon booking the charter, if there is a certain species of fish you would like to target, and you require rigs made and/or bait ordered, let Kev know and he will arrange this. Alternatively, you can bring your own tackle & bait and Kev will assist with rig making if necessary,

Here is a list of charters available from Plymouth,
Wreck fishing,
Shark fishing,
Reef fishing,
Plaice fishing,
Multiple day charters to Guernsey for
Bass, Brill and Turbot.

Tackle & Bait
Size Matters has a full ranger of
Shimano rods and reels, all loaded with braid. We also carry a wide selection of high quality lures, hooks, leaders, weights, and end tackle.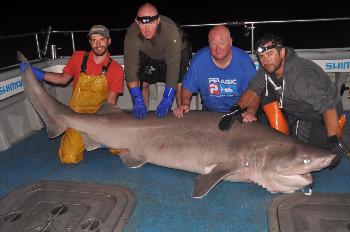 About the Skipper:
Kevin is a mad keen angler as well as a fully qualified charter skipper and has been fishing for over 30 years. He has built up a vast knowledge of all types of fishing not just in the UK but from all over the world at an international level.
He knows a thing or two about hooking and landing big fish, he has caught hundreds of sharks to 1700lb, tuna to 800lb, Sting Ray to 300lb, halibut to 290lb, Marlin to 265lb, White Sturgeon to 260lb, Common Skate to 180lb, Grouper to 150lb, Tarpon to 145lb plus many more!
Kevin is also a fishing guide for Sportquest holidays and guides fishing holidays all over the world.
Kevin started off his boat fishing days back in 1995, he then owed his first boat in 1998 before he could even drive a car.
Since then Kevin has moved on to owning and running his own successful charter boat Brigand from Liverpool.
In 2016 Kevin bought the mighty Size Matters from Plymouth a boat he has fish on since 2001.
He then took Size Matters to the cutting edge of UK charter fishing catching some truly amazing fish.
In 2018 he helped his anglers catch
Six Gill Sharks to 512lb (unofficial British record),
Blue Fin Tuna to 366lb,
Porbeagle Shark to 300lb,
Common Skate to 220lb,
White Skate to 160lb (unofficial British record),
Blue Shark to 130lb,
Blue Skate to 45lb (unofficial British record),
All this in just the space of five months!!
Watch this space because SIZE really does MATTER!!
Latest Catches
39 lb 8 oz Ling (Common) by Jason

1 lb Atlantic Chubb Mackerel by Skipper

150 lb Thresher Shark by Unknown

1 lb Red Mullet by Unknown
410 lb Six Gill Shark by The pot noodle firm

512 lb Six Gill Shark by Phil

366 lb Bluefin Tuna by Unknown

37 lb Blue Skate by John
40 lb Blue Skate by Phil

130 lb Blue Shark by Unknown

16 lb Pollock by Jimmy

24 lb 8 oz Big Eye Tuna by Unknown

7 lb 6 oz Ballan Wrasse by Andy
Last Minute
Availability
AUGUST - 2020

| Su | Mo | Tu | We | Th | Fr | Sa |
| --- | --- | --- | --- | --- | --- | --- |
| 26 | 27 | 28 | 29 | 30 | 31 | 1 |
| 2 | 3 | 4 | 5 | 6 | 7 | 8 |
| 9 | 10 | 11 | 12 | 13 | 14 | 15 |
| 16 | 17 | 18 | 19 | 20 | 21 | 22 |
| 23 | 24 | 25 | 26 | 27 | 28 | 29 |
| 30 | 31 | 1 | 2 | 3 | 4 | 5 |
Color for Fully Booked

Fully Booked

Color for Partially Booked

Partially Booked

Color for Available

Available

Color for Unspecified

Unspecified
N.B. Not all Skippers keep this diary up-to-date. Always check with skippers before making any plans.
Reviews
Summary:





Barry Severns (11/01/2018)

Cracking skipper knows his stuff, i hadn't fished for 20 years. He got me up to scratch and iam still learning.. I won't go with anyone else out of Liverpool and been once out of Plymouth..

Skippers Reponse: Thanks Barry,

See you in Plymouth this summer.

Nick Shennan (05/08/2016)

Having fished from Liverpool many times with Skipper Kev, this was my first venture out with him on Size Matters from Plymouth... and what a fantastic days fishing it was. Personal best Pollock of 10lb 3oz (which was also best in the boat for all of 2 minutes until Ross landed an 18lber!!), and also a personal best Ling. Lots of other Pollock, Cod, Ling, Gurnard, and even a Conger brought aboard... and of course, plenty of Mackerel! As ever, great assistance (and perseverance) from Kev, ably supported by Mike - thanks Pal. Looking forward to a return trip at beginning of October... Cheers Kev - see you then!

Skippers Reponse: Thanks for the review Nick see you in October.