Charter Boat: Skerry Belle
Licensed For:
up to 10 passengers
Hours:
4hr / 8hr / 10hr / 12hr / Multiple Days Trips
(Please tell the skipper that you found this information on CBUK)
Type of Fishing:
***NOW TAKING BOOKINGS FOR 2018!!*** LARGEST BASS CAUGHT ON BOARD SINCE 1987 IN UK WATERS WEIGHING 19lb 4oz (see photo gallery above).. Wreck, reef, anchor, uptide and drift. We are also local to the famous Goodwin Sands.HOUNDS, BASS, SPURDOG, TOPE, COD,POLLOCK, PLAICE,SEA BREAM,TURBOT Rods, reels, tackle and some baits are provided on all trips. A light lunch can be offered on all offshore trips. Gift vouchers are available on request.
Tackle Available:
Yes - Contact Skipper
Bait Available:
Yes - Contact Skipper
Boat Specification:
Skerry Belle is a 44ft modern charter boat, Cat 4, licensed for 10 passengers only and will easily fish 10 anglers in comfort. She has state of the art sonar radar fish finding equipment. She is insured for 12 persons and carries full sea survival and first aid equipment. She is incredibly sturdy at anchor, making for a much more comfortable day afloat. On-board facilities include rod holders, a non-slip deck, hob, oven, and microwave, hot and cold running water, kettle, indoor and outdoor seating, fridge, heating, TV and CD player and full flush toilet.
Facilities:
PRICES: 4 Hour Trip (times to suit each party) from £30 per person (This gives you a great insight into boat fishing as all tuition, tackle and bait is supplied.) 8 hour trips individual and whole boat hire - call skipper for best prices. Sightseeing, photography and speciality trips available - ask the skipper about any trip requirements. All fish are cleaned, gutted and bagged ready for your grill.
Additional Description:
RAMSGATE FISHING CHARTERS operates out of Ramsgate's Royal Harbour, with a wide variety of trips available, whether you're a beginner or experienced fisherman. We cater for individual anglers and small groups.
To find out more about package trips, special offers, and the best deals, call the skipper, Roger Lennon on 07805 250 427 or visit our website at www.ramsgatefishingcharters.co.uk.

We offer a range of days out, with four hour evening trips in the summer, whole boat hire, and four or eight hour trips. Our group packages are perfect for holidaymakers, competitions, birthday parties, and corporate events. We also offer trips for the scattering of ashes or filming.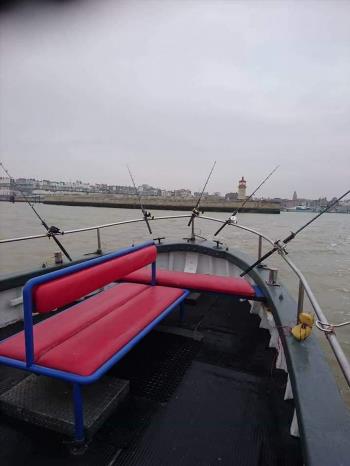 About the Skipper:
Roger Lennon has been fishing out of Ramsgate Harbour for over 30 years. He is passionate about angling and always aims to give you the best fishing experience he can provide. For more information about Roger and Skerry Belle, visit our website at www.ramsgatefishingcharters.co.uk.
Latest Catches
9 lb 3 oz Starry Smooth-hound by Pete

10 lb 5 oz Starry Smooth-hound by Baz

13 lb 2 oz Starry Smooth-hound by Phil twyman
7 lb 6 oz Starry Smooth-hound by Morgan

4 lb 2 oz Starry Smooth-hound by Darren from Medway

1 lb Tub Gurnard by Dan from Kent
6 lb 8 oz Starry Smooth-hound by Dan from Kent

5 lb 6 oz Starry Smooth-hound by Ian from orpington

8 lb 3 oz Starry Smooth-hound by Paul from Kent
Last Minute
26 June 2018

6 Places. 8 Hours. £45.00

27 June 2018

6 Places. 8 Hours. £45.00

30 June 2018

10 Places. 8 Hours. £45.00
Availability
JUNE - 2018

| Su | Mo | Tu | We | Th | Fr | Sa |
| --- | --- | --- | --- | --- | --- | --- |
| 27 | 28 | 29 | 30 | 31 | 1 | 2 |
| 3 | 4 | 5 | 6 | 7 | 8 | 9 |
| 10 | 11 | 12 | 13 | 14 | 15 | 16 |
| 17 | 18 | 19 | 20 | 21 | 22 | 23 |
| 24 | 25 | 26 | 27 | 28 | 29 | 30 |
Color for Fully Booked

Fully Booked

Color for Partially Booked

Partially Booked

Color for Available

Available

Color for Unspecified

Unspecified
N.B. Not all Skippers keep this diary up-to-date. Always check with skippers before making any plans.
Reviews
Summary:





Reviews Unaccepted: 2
Diana Rushbrook (22/07/2015)

What a great day we both had. Tea and coffe on boarding the boat were unexpected but very acceptable. Advice was most welcome for newcomers to sea fishing. Ron usually course angles, but really loved this. Diana being a sissy girl couldn't put the bait on but one of Roger, John or Pete were always there to help out. Ladies give it a try ( the bonus is you get a brilliant sun tan) Thanks Roger a great day see you next year.

john sanderson (16/06/2015)

Bass fishing on the skerry belle. Had a great day catching bass, The crew were very helpful and proffessional. Clean boat and plenty off room on board it. Would highly recommend using them. l will be going back out again.

Allan Yates (25/02/2015)

Another trip back to my roots were I fished as a lad along the Kent coast and enjoyed some of the best fishing available from UK waters. I fish a lot off shore and to enjoy an inshore day uptiding for Cod was pleasant and also very productive fishing out of Ramsgate on board the Skerry Belle skippered by owner Roger Lennon. The boat is ideal for inshore angling with plenty of space, the day started quite miserable with heavy rain and overcast skys but little to no wind so the sea state was calm to flat and at the end of the day after plenty of sunshine too it became oily. As it was inshore fishing the mark chosen was reached in a short travelling time and we were soon casting uptide style using top quality lugworm baits provided by the skipper and his reliable digger. Once the scents of our baits found their way around the Codling started to arrive and they were steady throughout the day along with the odd whiting, pout and doggies. Plenty of fish in the box, nice day after the short period of rain and also treated to bacon baps and a hot dinner plus treacle sponge pudding with custard and some tinnies were on offer for those not driving, skipper Roger is a City & Guilds trained chef and can russle up anything you want to bring along or provide meals with prior notice. So to say this inshore trip was a winner on the Ramsgate Riviera can only be the right description and with a beer and fish & chip supper before the drive home and time to reflect on a first class day. In between catching Codling I managed to shoot some HD video for my On Board Series so as soon as that's edited it will go up on my YouTube channel, enjoy some of these vidcaps from the movie and you will soon get the picture of what a great day it was, shoot down to Ramsgate and grab some action while the Cod is plentyful you will get well looked after On the Skerry Belle Charter Boat If you're a beginner plenty of tuition is available and you even get your catch prepared ready to take home.

Skippers Reponse: We always try that bit harder allan, and so pleased you enjoyed ur day

Allan Yates (16/10/2014)

Back to my roots I grew up fishing the Kent coast and enjoying some best fishing on offer around the UK. Recently I was invited to join a party of anglers boat fishing out of Ramsgate Marina so a return to fish near marks I fished many years ago. The boat was the Skerry Belle a large spacious traditional style boat which was originally a licensed ferry boat off the east coast. Skipper owner Roger Lennon who has years of experience fishing off Ramsgate and the notorius Goodwin Sands was friendly and willing to find you fish and provide any support you could want, crewman that day was Geordie John a very experienced angler again willing to offer any guidandce you care to ask for. I have uptided before but needed help in how it was done off Ramsgate and both Roger and John obliged and put me on the right track including baiting techniques that work well. Since that first trip I have enjoyed more outings taking good sized Bass largest to date 7lbs+ and the last trip we hit the thornback rays with me being the top rod with most caught and heaviest fish at 11.5lbs. With the winter Cod showing I will be back for many more and his toasted bacon sarnies are to die for if you get time to eat them as the fish jump all over your baits. To sum it up a wicked find to return to my roots with many more being planned, you need to have some yourself and Enjoy !!!

chris biddlecombe (19/06/2014)

19 june 2014.....had a great days charter..organised from the, deal cutter pub ramsgate...although i dont use it,but great group off guys,any way the trip for me was great,the skipper and his mate full off advice and very helpful the boat is adequate for the sevices offererd...overall a dam good day,just wish i caught more fish haha,but plenty... on board.....my opinion great day fishing..if theres a place for one if your short for a trip let me kno if i can make it i will thnx chris.....