Charter Boat: Skylark
Licensed For:
up to 12 passengers
Hours:
3hr / 4hr / 5hr / 6hr / 7hr / 8hr / 9hr / 10hr / 12hr / Multiple Days Trips
(Please tell the skipper that you found this information on CBUK)
Type of Fishing:
Rough Ground inshore/ offshore , Wreck ,and Uptide fishing available.
Tackle Available:
Yes - Contact Skipper
Bait Available:
Yes - Contact Skipper
Boat Specification:
code of Practice for 12 anglers and 2 crew and can travel 20 miles from any Port in fair weather and daylight.
Facilities:
Skylark is fitted with plenty of seating. Rods, Reels Tackle and Bait can be provided. Hot Drinks are Available, Anglers staying multiiple days or staying in hotels can use our warehouse freezers to store their catch overnight and their tackle then collect them the following day.
Additional Description:
Skylark is a spacious 35ft Vessel, Powered by a 6 cylinder Diesel engine. which cruises comfortably at 8 Knots. made from wood, she is of sturdy design able to cope with all weather conditions.
Skylark Has a code of Practice for 12 anglers and 2 crew and can travel 20 miles from any Port.
Skylark is equipped with a Many chart Plotters one on a 19 inch screen, GPS, Sonar, Side Scan sonar, and Stucture scan sonar (Giving pin-point accuracy when locating wrecks or prominent fish holding features) DSC radio with AIS, Radar, and full safety equipment.

THE FISHING

Renowned worldwide for it's quality sea fishing heritage, Scarborough on the beautiful Yorkshire coast is the ideal port to charter a boat for an angling trip.
Luckily for Scarborough there is many places to fish, most of these places we fish are Natural scars of rock, kelp beads, And generally really rough ground ideal for Cod and Pollock Fishing. there are many marks we fish some are only a few minutes away from the harbour and others can span up to filey brigg or ravenscar again two very good Cod and Pollock grounds.

Also close to Scarborough are many old ship wrecks, mainly ships that were sunk in the war, and some old trawlers. these wrecks can produce good Cod, Ling, Pollock, and Many other fish.

LIKE US ON FACEBOOK TO RECEIVE UP TO DATE CATCH PHOTOS/REPORTS/SPACES
https://www.facebook.com/SkylarkFishingTrips

Or visit our website @ http://www.skylarkfishing.co.uk

If you wish to hire the boat for Diving, Filming, Survey, Scattering Ashes and Sightseeing please feel free to give us a call and I am sure we could be of service to you.

WE ARE THE ONLY CHARTER BOAT THAT OPERATES ALL YEAR AROUND FROM SCARBOROUGH.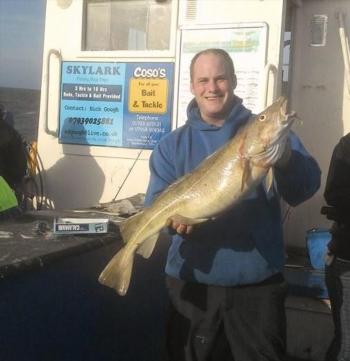 About the Skipper:
Nick is a keen match angler fishing from the boat and the shore. Over many years he has fished in the Scarborough Boat Angling Club, the Scarborough Angling Festival and the Scalby Mills Angling Club and in the last few years he has gathered many trophies and prizes. As well as fishing Nick also enjoys gathering and digging his own bait to ensure he has the best possible bait.

Whether you are a beginner or an expert, Nick with his lifelong knowledge of the area will take you to the best spots for a successful day's fishing.

First and foremost Nick is an angler and admits to having a passion for bait fishing from the shore and the boat for Cod. During the summer Nick feels there is not any type of better fishing than catching Pollock on light tackle using lures. Obviously cod is the main target species of all the charter boats and we have had some excellent fish with both quality and quantity coming aboard


Latest Catches
7 lb 3 oz Pollock by Unknown

8 lb Cod by Unknown

3 lb 8 oz Cod by Unknown

6 lb 1 oz Cod by Unknown

4 lb 7 oz Cod by Unknown
6 lb 3 oz Cod by Unknown

10 lb 2 oz Pollock by Unknown

7 lb 2 oz Pollock by Unknown

9 lb 12 oz Pollock by Unknown

7 lb 4 oz Cod by Unknown
9 lb 8 oz Cod by Unknown

8 lb 10 oz Cod by Unknown

14 lb 8 oz Ling (Common) by John Mellors

13 lb 13 oz Ling (Common) by Dave lakin

12 lb 6 oz Ling (Common) by John Mellors
Last Minute
Availability
DECEMBER - 2019

| Su | Mo | Tu | We | Th | Fr | Sa |
| --- | --- | --- | --- | --- | --- | --- |
| 1 | 2 | 3 | 4 | 5 | 6 | 7 |
| 8 | 9 | 10 | 11 | 12 | 13 | 14 |
| 15 | 16 | 17 | 18 | 19 | 20 | 21 |
| 22 | 23 | 24 | 25 | 26 | 27 | 28 |
| 29 | 30 | 31 | 1 | 2 | 3 | 4 |
Color for Fully Booked

Fully Booked

Color for Partially Booked

Partially Booked

Color for Available

Available

Color for Unspecified

Unspecified
N.B. Not all Skippers keep this diary up-to-date. Always check with skippers before making any plans.
Reviews
Summary:





Graham Porter (09/08/2018)

Top evening fishing last night with my 10 year old son,perfect Dad & Lad time.
The service provided by Nick and his mate was absolutely first class.Nothing was too much trouble,everything was well explained.
The Skylark was an absolute pleasure to be aboard,we will be back.

Skippers Reponse: Many thanks for your glowing review Graham

Dave K (03/08/2018)

For anyone who has not yet fished on Skylark do your self a favour and book a trip the skipper Nick never gives less than 100 % effort and is a pleasure to be at sea with there's more than a few well known boats/skippers that could do with taking a leaf out of Nicks book when it comes to customer care less bullshit and more effort.

Skippers Reponse: Thanks for a great review.

Hope to see you again soon

Susie Maloney (08/10/2017)

Great day for us two first timers this Sunday. Both guys were really helpful! Would definitely recommend and we'll both be going again for sure!

Sam Smith (08/10/2017)

Excellent trip, Guys where very helpful. Definitely would do it again.

Mark Allen (29/06/2017)

Excellent fishing trip, great fun had by all. Even my 7 year old was able to fish well with the help of the crew.