Charter Boat: Yellowfin
Licensed For:
up to 12 passengers
Hours:
4hr / 8hr / 10hr / 12hr / Multiple Days Trips
(Please tell the skipper that you found this information on CBUK)
Type of Fishing:
Drifting and Anchoring over Wreck's for Cod, Pollack, Bass, Ground Fishing with bait for Brill, Turbot, Plaice, Cod, Tope,Bream, and many other Species.
Tackle Available:
Yes - Contact Skipper
Bait Available:
Yes - Contact Skipper
Boat Specification:
40 FEET LONG x 12 Beam (96 FEET of Fishing Space all round the Boat)SAFE STABLE Twin Engined,Top speed 25 knots, Massive Deck Space with ALL SAFETY EQUIPMEMT AND LIFE RAFT.Dive door on side and stern of boat with dive ladders. Dive inshore or offshore ship wrecks.
Facilities:
TEA & COFFEE OR SOUP, FLUSING TOILET, ROD HOLDERS ALL ROUND BOAT& ROD RACK, WALK BOAT ON VIA SIDE & STERN DOOR. INSIDE & OUTSIDE SEATS, BAIT TABLES,AND PHONE CHARGERS
Additional Description:
NOW TAKING BOOKINGS FOR 2022 COD AND POLLACK TRIPS START LATE JANUARY TO MARCH AND APRIL WE START TO FISH FOR BREAM & RAYS TURBOT AND BRILL . ROD & REEL HIRE £5 PER PERSON CALL ME ON 07731465992 IF YOU BOOK A SPACE OR THE WHOLE BOAT PLEASE CALL THE NIGHT BEFORE TRIP TO MAKE SURE THE WEATHER IS OK FOR THE TRIP.REFUNDS GIVEN IF WEATHER IS TO WINDY OR BOAT OUT OF SERVICE. OR IF YOU WANT TO CANCEL YOUR TRIP YOU NEED TO GIVE ME AT LEAST 1 MONTHS NOTICE TO GET A REFUND,IF THE TRIP IS CANCELED AND YOU DON'T REBOOK WITHIN 3 MONTHS YOU WILL LOSE YOUR DEPOSIT. ROD & REEL HIRE IS £5 PER PERSON...………….. POST CODE FOR BOAT BN25UW ........................ NO DRUNK PEOPLE ALLOWED ON THE BOAT................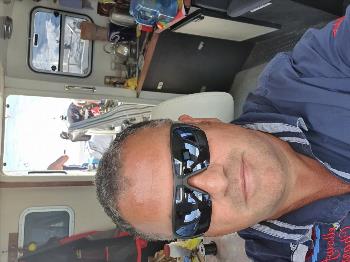 About the Skipper:
Skipper started fishing age 5 with grandad and dad fishing on the river seven for barbel, chub and perch , then moved on to sea fishing . I started fishing out of newhaven in 1993 on own boat Also been crew man for charter boat,still love to fish myself when i get chance,get a buzz from giving people a good days fishing,or somebody catching a personal best.Will help you set up your gear,and any help you need for the day.
This Charter has been listed as Suitable for Diving Trips. Contact the Skipper for full details.
Latest Catches
3 lb Plaice by Unknown

2 lb 6 oz Plaice by Unknown

3 lb Plaice by Peter

2 lb Plaice by Unknown

1 lb 6 oz Dab by Unknown
1 lb 8 oz Plaice by Unknown

10 lb Pollock by Unknown

11 lb Pollock by Unknown

13 lb Pollock by Alan
14 lb Pollock by Kenny

10 lb Pollock by Dara

11 lb Pollock by John

16 lb Pollock by Unknown

10 lb Pollock by Ian
Last Minute
Availability
DECEMBER - 2021

| Su | Mo | Tu | We | Th | Fr | Sa |
| --- | --- | --- | --- | --- | --- | --- |
| 28 | 29 | 30 | 1 | 2 | 3 | 4 |
| 5 | 6 | 7 | 8 | 9 | 10 | 11 |
| 12 | 13 | 14 | 15 | 16 | 17 | 18 |
| 19 | 20 | 21 | 22 | 23 | 24 | 25 |
| 26 | 27 | 28 | 29 | 30 | 31 | 1 |
Color for Fully Booked

Fully Booked

Color for Partially Booked

Partially Booked

Color for Available

Available

Color for Unspecified

Unspecified
N.B. Not all Skippers keep this diary up-to-date. Always check with skippers before making any plans.
Reviews
Summary:





Reviews Unaccepted: 2
clifford matthews (09/02/2022)

great day out with Kurt. the conditions were not looking great with a choppy sea and windy but with unexpected sunshine. Kurt put us right on the pollock and good sport was had through the day with fish up to around 10lb and fighting hard. Lost a couple of good fish but the biggest surprise for me and all was catching a nice Turbot. This is the second time out with Kurt this year and must say he puts the effort and miles in to get you on the fish.
Thank you Kurt.
Cliff and Dave.

Skippers Reponse: Hi Cliff thanks for the review, i do my best put the effort in as so do you all getting up early in the mornong and driving for hours to come fishing so a big thanks to you all . Tight lines

Ralph Colvin (27/08/2021)

Great day out on a superb charter boat hosted by Kurt and John. Fishing was a bit slow with tides not so good in our favour but the skipper tried many spots to try and get us on the fish. We did catch numerous small fish of varying species including a nice little Bass for new mate Tom. Plenty of local advice on the right tackle etc. Bait supplied too which is always a bonus. Need to try winter months for those big Pollack next time. All in all a lovely trip and I will return without a doubt.

Skippers Reponse: Hello Ralph thanks thanks for the kind words glad you had a good day and we will be Pollack fishing in February hope to see you again .

Leemark O'Dean (14/05/2021)

Skipper Kurt and deck hand John are friendly and knowledgeable guys they tried everything for us to catch fish even though the wind and current was quite strong but it's a day out with good company and good music aboard,will definitely be going again soon, would recommend the "yellow fin charter Brighton" to anyone

Skippers Reponse: Hello Lee thanks for the comments hopefully next time weather will be better and more fish about on the wrecks.

Victoria Lukashkina (27/10/2019)

We had our first sea fishing experience so we were a bit concerned about being complete beginners at first, but Kurt took very good care of us so all we had to do was focus on fishing and, after hitting a good spot and swapping baits a few times, we caught 39 Pouting, Pollock and Scuds between two of us. Other people caught quite a lot of sea eel and dogfish. It seemed like everyone but us were regulars and there was a very friendly atmosphere. What a first experience! We had an outstanding wrecking trip and catch. Thank you Kurt for a wonderful experience. We'll be back!

Jeff Tugwell (25/03/2018)

Great days fishing yet again with 4 pollock up to 12lb and a bonus cod on the last wreck cheers mate see you soon.

Skippers Reponse: Thanks very much enjoy the fish, your a star thanks for all
your help rebuilding and repairing Yellowfin over the years.